Back in 1998 I gathered discarded items from
the streets of Carrollton and made collages. In my studio
I would arrange items like they were puzzle pieces, carefully
set works aside, coming back later to make adjustments,
before gluing the materials down on masonite panels.
Upon completion, a Bible verse, phrase or impression would
come to mind. A friend once called this kind of art-making
as "intercession."


More about "Air Strike"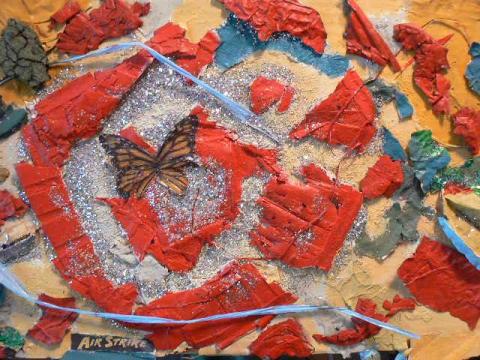 This collage is the frozen activity of God breaking
my life apart. You can think of it as a "Matrix moment."
Stop action, the butterfly at the epicenter, swirls of glitter,
and large red shapes broken up and cast away. Too wonderful
to put into words. How Jesus dealt with powerful matters
that shaped how I thought about myself and those around me.
Mental oppressions, unrealistic expectations, and bitterness.
Jesus does answer. He can overcome. He leadeth me.
I love glitter. At 53 years glitter brings me into the dazzling
brilliance of Jesus, who is the Vast Intensity Joy Undivided.


Q: How do you know when it is done?
When do you stop arranging items in the piece?

A: " It's sort of like a person who puts icing on a wedding cake
or a person who arranges a floral setting, when all the elements
are in place, and it is pleasing to my eye---it's done!! To you the
materials may look random, but believe me, each color, each
shape, each texture is carefully considered before being glued
down. I am intrigued by it." Beautiful Fire 1998